Have you always wanted to hit the beach on the shining shores of the California Coast? If so, check out these Pacific Coast pads for rent, from Washington's Whidbey Island to sunny San Diego. Here are 20 excellent West Coast beach houses you can rent.  
20 Excellent West Coast Beach Houses You Can Rent
1.  Westport Ocean Oasis, Westport, Washington
When you hear the phrase "West Coast beach" you might not immediately think of Washington state. Still, this vacation rental for up to four people could very well change that. It is a single bedroom, one-bathroom, pet-friendly apartment. Here you will enjoy sweeping views of the shining shore thanks to its large windows. Other amenities include a television, a putting green, a basketball court, and a balcony.
2.  Oceanfront Condo, San Diego, California
This condo rental, remodeled in 2019, is situated on the 10th story of an exceptional oceanfront skyscraper. It has two bathrooms, two bedrooms and can sleep up to six guests. It features three televisions complete with both Roku and DVD players, modern stainless-steel appliances, and convenient blackout blinds in all the sleeping spaces. Take in memorable ocean views from the master bedroom, dining area, main living room, and even the kitchen. Guests also have access to a rooftop area with lounge seats and grills. There's also a hot tub and heated pool on the ground floor.
3.  Cannon Beach House, Arch Cape, Oregon
This three-bath, four-bedroom rental has both a main house and a guest house so it can accommodate up to 10 guests. The furnishings and fixtures here are quite colorful in contrast to the white walls and warm woods. Amenities include a dedicated workspace, games, and toys for the kids, heated tile floors, an indoor fireplace, an outdoor deck, railhead showers, and a television with a gaming console. 
4.  A Family-Friendly Beach House, Westport, Washington
This modern rental sleeps six. It has three stylish bedrooms and two and a half bathrooms. Amenities include a fireplace, a genuine gourmet kitchen, a hot tub, and, of course, incredible ocean views. Into hiking? This beach house also has convenient, easy access to the popular Westport Oceanfront Trail that leads right to the water.
5.  A Secluded Oceanfront House, Charleston, Oregon
If you'd like a beach getaway free of tourist towns and tourists, this dog-friendly rental is in the Oregon Bay Area's least populated community. It sleeps six, has two bathrooms and two bedrooms. It has private beach access and romantic views. You can enjoy its proximity to several parks and go biking, birdwatching, and hiking. Amenities here include three televisions with numerous movies, various games, Wi-Fi, and a laundry room.
6.  Luxe Beachfront House, Newport, Oregon
Also known as The Sea Pearl, this contemporary vacation rental offers guests a little more luxury. It includes four bedrooms, and three bathrooms, and sleeps 10. The rental has beach essentials, a grill, and a deck. Here you can also enjoy semi-private access to the beach, sealife, and tide pools. Amenities here include a dedicated workspace, cable TV, a stocked kitchen, and a washer and dryer.
7.  Malibu "Mermaid" Apartment, Malibu, California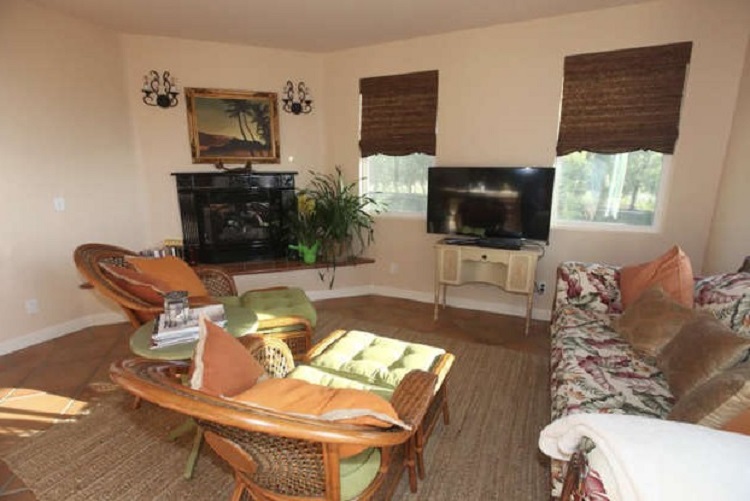 Looking to experience Malibu at more affordable prices? This rental apartment sleeps up to four people. It has one bedroom and one bathroom. It's earned the Airbnb Plus label for its ocean views and cute furnishings. It's a family-friendly place complete with modern amenities such as a highchair, a Pack 'n' Play, and children's books and toys too. 
8.  Beachfront Bungalow, Oxnard, California
This colorful rental sleeps up to 10 guests and is conveniently located near Ojai, Santa Barbara, and Ventura. This beach bungalow features four bedrooms, three bathrooms, a great gourmet kitchen complete with a six-burner Viking stove, and a garage that contains bicycles, boogie boards, a canopy, and chairs. Less than two miles away you will find the popular Seabridge Center's shops and restaurants as well.
9.  Studio Beach House, Rancho Palos Verdes, California
You'll find this beach house just west of lively Long Beach. It can sleep up to four guests and offers guests easy beach access and amazing views. Amenities here include both basketball and tennis courts, a hot tub, a mini-fridge, an outdoor bar with 50-inch TV and surround sound, palapas equipped with fire pits, and a playground. Visit the nearby Portuguese Bend Reserve too.    
10.  Northern Oregon Beachfront Condo, Lincoln City, Oregon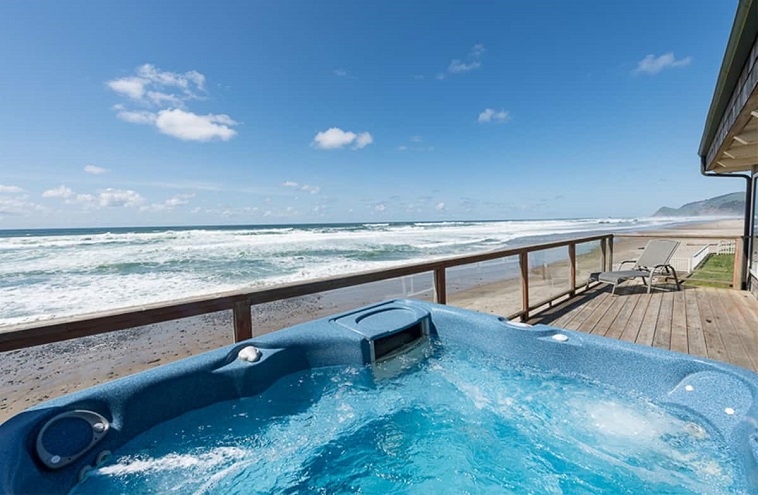 This airy two-bedroom, two-bathroom rental sleeps four. Here you can enjoy beautiful beach and ocean views via its great floor-to-ceiling windows. This condo was recently remodeled. It includes an expansive deck, new bathrooms, and a new kitchen. Amenities here include a hot tub, a convenient in-unit washer and dryer, and a TV.
11.  The Hermosa Beach Mansion, Hermosa Beach, California
Here's your chance for you and up to 10 or 11 of your friends or relatives to stay in an actual mansion in a laid-back Southern California beach town. It has five bedrooms and five bathrooms so you can split the costly price tag with others. You can enjoy the ocean views from a rooftop lounge and three balconies. Here you can hit the beach and play billiards too.
12.  Brookings Coastal Cabin, Brookings, Oregon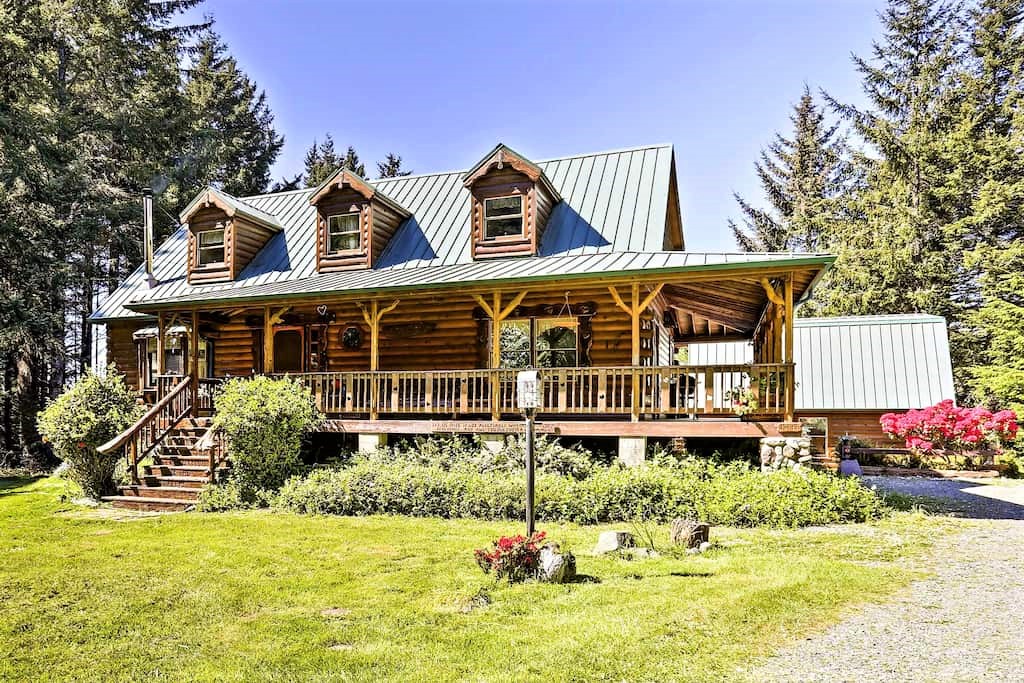 This rental sleeps eight and is roughly half a mile from the coast. This cabin has four bedrooms, four bathrooms, a great deck, a real, wood-burning fireplace, and custom woodwork too. It has a rustic look and is close to the well-known Samuel H. Boardman State Scenic Corridor. It's a great place for biking, hiking, and even whale watching.
13.  Sandcastle Bluff In Moclips, Moclips, Washington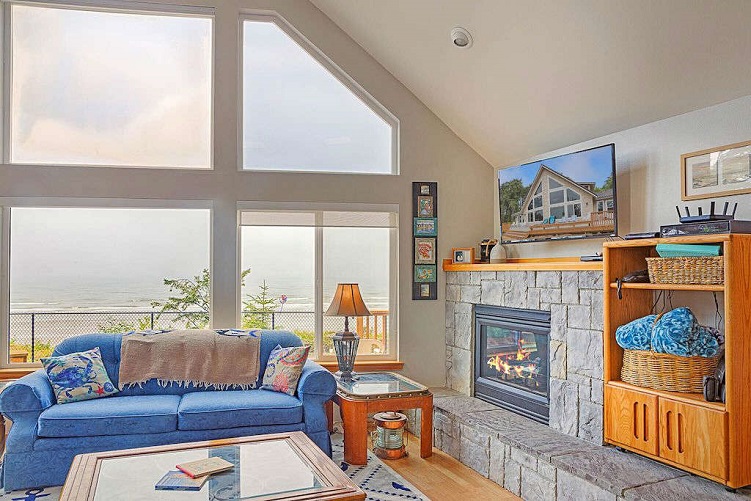 This attractive rental is nestled high atop a stark bluff and sleeps up to 10 guests. It has a nautical decor and provides scenic views of the ocean through its floor-to-ceiling windows. There are two primary suite bedrooms that also offer memorable views, and the dining room allows you to look out over the water while you dine. Stargaze from the outdoor hot tub at night too.
14.  Sunny Summerland Farmhouse, Santa Barbara, California
Situated in the Summerland section of Santa Barbara, this farmhouse has three bedrooms and sleeps as many as eight individuals. It's a short walk to the beach and you're close to local parks and wine tasting rooms too. The farmhouse features an expansive deck, a grill, an in-ground jacuzzi, a media room, an outdoor fire pit, a stone-covered fireplace, and striking ocean views. 
15.  Retro Beachfront Home, Gearhart, Oregon
This retro beachfront rental home is distinctively retro, owned by one family for over 60 years, and sleeps as many as 10 guests. Surrounded by a wraparound porch, the building has five bedrooms, four bathrooms, a genuine wood-burning fireplace, and a nice path to the nearby beach.
16.  Multi-Family Seascape Lodge, Whidbey Island, Washington
Found in Puget Sound, amidst tranquil scenery and rugged terrain, this is a great place for a west coast oceanside getaway. This waterfront home sleeps up to nine guests. It's not far from Useless Bay Golf & Country Club, distinctive Double Bluff Beach, and popular Downtown Freeland, which has numerous bars and restaurants. This rental property includes a sizable deck, grill, and lounge furniture, multiple fireplaces, and an indoor jacuzzi that actually overlooks Puget Sound.
17.  Dana Point Townhouse, Dana Point, California
You will find this townhouse on Capistrano Beach. It can accommodate as many as eight guests. There are three bedrooms and two bathrooms, a private balcony complete with an ocean view, and access to a private beach. There is also a grill, a cornhole game, and a sleeper sofa as well. If you've got your sea legs, go on a fishing trip here and catch yourself some dinner!
18.  Somervilles Escape, Newport, Oregon
Located right outside of Newport, this three-bedroom, two-bathroom rental sleeps as many as 12 and is about half a mile from Moolack Beach's parking lot. It comes complete with a large lawn where you can work on your tan, play touch football, or kick around a soccer ball. You can also relax on the deck and enjoy the private hot tub. Additional amenities include six televisions, a cozy fireplace, and a well-stocked game room.
19.  Ocean Park Getaway, Ocean Park, Washington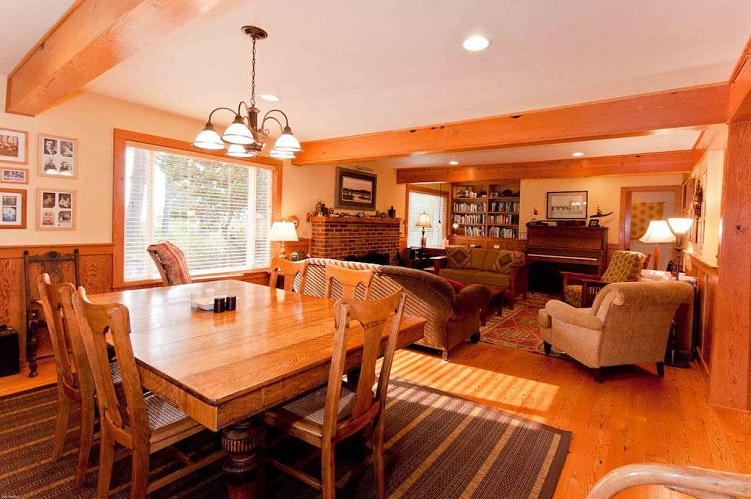 If you enjoy the water and a quieter setting, this small-town getaway rental sleeps up to 10. Here on the lovely Long Beach Peninsula, this two-story structure is highlighted by six different bedrooms, three individual bathrooms, a great gourmet kitchen with two ovens, and a separate washer and dryer on each floor. Other amenities include a backyard fire pit, a warm living room fireplace, and an assortment of family-friendly games. The beach is only two blocks away too.
20.  Three-Bedroom Beach House, Oceano, California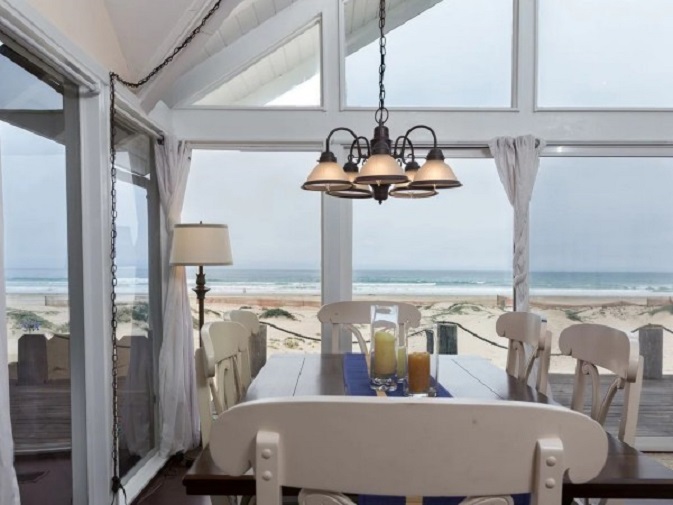 Discover this noteworthy three-bedroom beachfront rental home in Oceano. It can accommodate as many as eight people at once. You can enjoy the incredible views of the ocean while eating in the open kitchen. After a day at the beach, swimming, tanning, and even dolphin spotting, you can rinse off at the home's outdoor shower before dinner. If you need more, take a short drive up the famous Pacific Coast Highway to the Monarch Butterfly Grove and Pismo Beach.